The Finger Lakes region offers great options for those looking for things to do in the wintertime.
By Margaret McCormick
What is winter like in the Finger Lakes? In a word: Peaceful.
Winter in the Finger Lakes means snow-covered, desolate landscapes, quieter-than-usual tasting rooms (you might have the opportunity to chat with a winery owner or winemaker) and, sometimes, off-season discounts on lodging and at restaurants.
Winter in the Finger Lakes can mean skiing, snowshoeing or hiking during the day and warming up by the fire (or in a hot tub) at night.
Lisa and Patrick Haber, of Syracuse, own a house on the east side of Keuka Lake and celebrate life in the Finger Lakes on an Instagram account (@flxcountry_living). In the last few years, the Habers have noticed more visitors are renting homes on the lake in during winter. So, they have company at their favorite wineries and recreation sites – but not too much of it.
"The wineries are definitely less crowded in wintertime,'' says Lisa Haber. "They're much more laid back, not loud and crowded. You get more personal attention.''
The Habers' house is about six miles south of the Yates County village of Penn Yan. "It's so serene and quiet. We hang out on the deck sometimes in winter. It's amazing how dark the sky is and how many stars you see.''
Places they like to visit this time of year include Grist Iron Brewing in Hector, on Seneca Lake, which has craft beers, thin-crust pizzas and a cozy fireplace, and The Salon at Forge Cellars, a comfortable lounge space to enjoy wine and casual gourmet fare. Closer to home, Lisa Haber is looking forward to visiting the new tasting room at Weiss Vineyards and old-favorite Dr. Konstantin Frank Winery, both near Hammondsport.
For more vigorous recreation, Haber recommends the Keuka Lake Outlet Trail, a year-round, multi-use trail that runs from Penn Yan to Dresden and features a waterfall, and the Catherine Valley Trail, a year-round trail near Watkins Glen.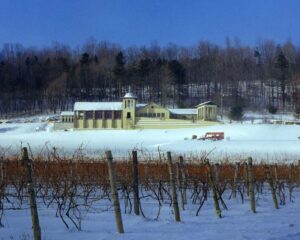 Wine trails
The Finger Lakes region is home to more than 100 wineries, breweries, cideries and distilleries clustered around three main lakes, Cayuga, Seneca and Keuka.
• Cayuga Lake Wine Trail: www.cayugawinetrail.com
• Seneca Lake Wine Trail: senecalakewine.com
• Keuka Lake Wine Trail: www.keukawinetrail.com
Be sure to try some ice wine
The cold climate of the Finger Lakes is ideal for producing ice wine, a super-sweet dessert wine made from grapes left to freeze on the vine. The grapes are left until deep in the winter and harvested by hand, so they don't burst. Grapes commonly used for these wines include Vidal Blanc, Vignoles, Riesling, Chardonnay and Cabernet Franc. Hunt Country Vineyards in Branchport (Keuka Lake) is the longest, continuous producer of ice wines in the country. "It's liquid gold and unlike anything you might have tasted before,'' says the Hunt Country website. Sip a small glass in front of a roaring fire.
Seasonal note
Most wineries in the Finger Lakes are open year-round, but some operate with reduced hours during the winter, so do some research before you visit. Some wineries require reservations for tastings. Be sure to visit the websites of individual wineries you plan to visit. Due to the threat of COVID-19, most wineries don't accept groups of more than four or six people.
Possible itineraries
• Cayuga Lake: The Gould Hotel in Seneca Falls is an elegant small hotel in the center of town. Walk to restaurants, bars and the Women's Rights National Historic Park. The hotel is a couple miles from the west side of Cayuga Lake.
• Seneca Lake: Glenora Wine Cellars in Dundee, Seneca Lake's first winery, has grown to include a 30-room inn and a restaurant, Veraisons, specializing in locally sourced ingredients and regional cuisine. From there, you can easily visit Watkins Glen and numerous wineries and breweries.
• Keuka Lake: The village of Penn Yan, at the north end of the lake, has several chain hotels or motels plus charming bed and breakfast inns. Penn Yan puts you in a good position to easily visit wineries on the east and west side of the lake, with a stop in Hammondsport.
Beyond Wine: Things to Do
• National Women's Hall of Fame: The Hall, as it's called, is the nation's oldest nonprofit organization and museum dedicated to honoring and celebrating the achievements of distinguished American women. The hall and museum are in Seneca Falls, the birthplace of women's rights in this country. NWHF moved to the newly renovated Seneca Knitting Mill Building in 2020. Visit the website to plan your visit and purchase tickets.
• Sciencenter, Ithaca: The Sciencenter is a hands-on museum designed to inspire excitement for science for people of all ages through interactive exhibits and engaging programs. Visitors will find exhibits on astronomy, animals, the ocean, weather, sustainability and other topics. Open year-round. Visit the website for information on exhibits and programs.
• Herbert F. Johnson Museum of Art, Ithaca: The Johnson Museum is an art museum in a historic I.M. Pei Building on the main campus of Cornell University. Its collection includes two windows from Buffalo's Darwin Martin House, designed by Frank Lloyd Wright. There are more than 35,000 other works in the permanent collection. Visit the website for information on current and upcoming exhibitions.
• Kitchen Theatre, Ithaca: Innovative theater in an intimate space is the hallmark of Kitchen Theatre Company, founded in 1991. Visit the website for details on the 2021-2022 season.
• Keuka Lake Outlet Trail: The Outlet Trail is a multi-use "rail trail" between Penn Yan on Keuka Lake and Dresden on Seneca Lake. The seven-mile trail is built on the bed of the old Fall Brook Railroad. In winter, the trail is popular for hiking, snowshoeing and cross-country skiing. A popular destination along the trail is 40-foot Seneca Mills Falls. Much of the trail is owned and maintained by the nonprofit Friends of the Outlet. The trail is open year-round from dawn to dusk.
• Waterloo Premium Outlets: Get more for less at this retail destination just off the Thruway. Shop brands like Champion, Skechers, Chico's Outlet, Banana Republic Factory Store, Merrell and dozens of others
• Corning Museum of Glass: The CMOG bills itself as the world's largest space dedicated to contemporary art and design in glass. The museum is open year-round and has something for all ages and interests, from exhibits to glass-making demonstrations to make-your-own glass classes.
• Yates County History Center, Penn Yan: The YCHC is one of the oldest community museums of its kind in the state. The main building, the Oliver House Museum, is an Italianate-style house built in 1852 that features six rooms with period furnishings. Guided tours are available. Other rooms feature changing local history exhibits.
• Oak Hill Bulk Foods, Penn Yan: Oak Hill is a Mennonite grocery store with a bakery and café. The café offers breakfast items, sandwiches, subs and wraps, soups and salads, coffee and more. The extensive bakery menu offers everything from cookies and cakes to pies and "fry pies,'' a fried dessert similar to turnovers.
• Glenn H. Curtiss Museum, Hammondsport: This cavernous museum focuses on the life of pioneer aviator Glenn Hammond Curtiss, a native of Hammondsport, with plenty of exhibits relating to local and regional history and early aviation history in the area. Great for adults and kids.
Featured Image: Finger Lakes Wine Country.