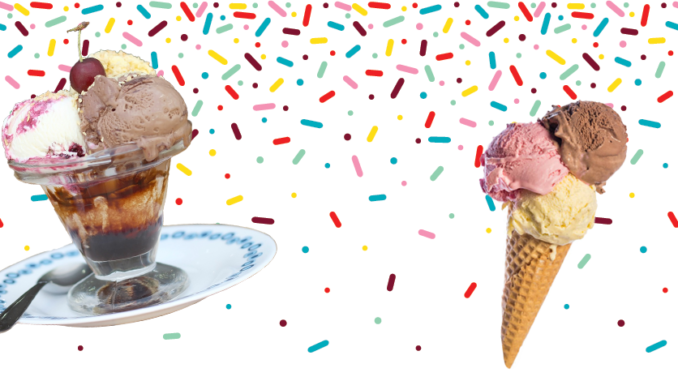 Try these locations, which are open year-round
Who says ice cream (and frozen yogurt) wear out their welcome when summer's over? Here are 10 places that cater to ice cream cravings year-round. Note: This list is not intended to be comprehensive. It's a good idea to check the weather forecast and confirm business hours before heading out.
• Bailiwick Market and Cafe Café, Elbridge: The café on Route 5 in Elbridge serves breakfast, lunch and dinner, but save room for Field of Creams ice cream for dessert. Ice cream in a variety of regular and seasonal flavors is made on site. Open daily.
• Byrne Dairy and Deli: A few Byrne Dairy stores keep their ice cream windows open in the off season. To be sure, call ahead and ask. Meanwhile, you can always pick up Byrne's "Mighty Fine'' ice cream by the pint and half-gallon — as well as Cookiewiches.
• https://byrnedairystores.com
• Charlee's Ice Cream, Camillus: Charlee's is an ice cream parlor (with a drive-thru) featuring dozens of flavors of soft-serve and Perry's hard ice cream, plus related treats. Ice cream drive-thru: What a concept in the winter months. You don't even have to get out of the car. The shop hosts private parties but is closed for retail during the holiday season. Look for it to reopen in mid-January with limited days and hours. 112 Kasson Road, Camillus.
• https://charleesicecream.com
• ChuckleBerries, Liverpool: Get exactly as much fro-yo as you want (and fruit, nuts, sprinkles and other toppings) at this weigh-and-pay frozen yogurt and ice cream shop. "Great staff, great dessert and a load of toppings,'' notes one TripAdvisor review. "We have even gone there during a snowstorm.'' Open daily. 7567 Oswego Road (Route 57), across from Bayberry Plaza.
• www.facebook.com/people/Chuckleberries/100057154762349/
• Cold Stone Creamery, Destiny USA, Syracuse: The chain is known for fresh ice cream made in each store, which can be customized as you like. Pick a flavor, add on your favorite ingredients (fruit, nuts, chips, candy, cookies, etc.), and watch it come together on a frozen granite slab. Open daily.
• www.coldstonecreamery.com/index.php
• Cornell Dairy Bar, Ithaca: The Dairy Bar, in Stocking Hall at Cornell University, offers soups, sandwiches, grab-and-go fare and ice cream made on campus – you can even watch it being produced. Hours vary seasonally, especially on weekends and when school isn't in session.
• https://scl.cornell.edu/cornell-dairy-bar
• FiFi's Ice Cream and Sweets, Syracuse: This busy shop at the corner of James Street and Midler Avenue in Eastwood serves a long list of Perry's ice cream flavors and ice cream treats. The shop typically stays open through the holiday season, then takes special orders for pints, quarts, ice cream cakes, pastry cakes and catering.
• Friendly's, Liverpool: Friendly's has been serving ice cream since 1935, but there's just one Friendly's location left in the Syracuse area. Go for a Retro Royal Banana Split – or something uncomplicated, like a cone or dish of ice cream. Open daily. 3873 Route 31, Liverpool.
• https://locations.friendlysrestaurants.com/ll/US/NY/Liverpool/3873-State-Route-31*-Suite-100
• Shtayburne Farm Creamery, Rock Stream: Homemade ice cream and farm-fresh cheese (15 blends of cheddar and Monterey Jack) is available all winter long at this Finger Lakes dairy destination. Open Monday to Saturday. 2909 Chase Road, Rock Stream.
• https://fingerlakesdairyfarm.com
• Stewart's Shops: Stewart's Peanut Butter Pandemonium earned top honors at the World Dairy Expo earlier this year, but if that doesn't float your boat there are many other flavors to choose from. Enjoy a scoop, shake or sundae on site, or take home a hand-packed or prepackaged pint. Open daily. Multiple locations in Central New York.
Compiled by food writer and food blogger Margaret McCormick