By Deborah Jeanne Sergeant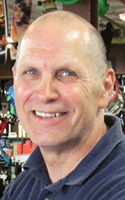 Along with a reason to get outdoors and enjoy the brisk air and beauty of winter, snowshoeing offers a good workout.
The activity burns more calories than walking or running at the same rate, according to www.snowshoes.com.
The site referenced Ball State University and University of Vermont studies that said snowshoers can burn 420 to 1,000 calories hourly, depending upon speed and the weight of the individual.
If you're new to snowshoeing, here's what you need to get started.
Of course, you'll need cold weather clothing. You know the drill: moisture-wicking base layer, insulating mid-layers and a puffy top layer with waterproofing. Don't forget to do the same with your socks and gloves. Add a warm hat that covers your ears, polarized sun glasses and broad spectrum sun screen for any exposed skin and you're ready to go.
Choose the right snowshoes. Since they strap onto any boot you have (waterproof are recommended), your comfort and success at snowshoeing depend upon the type of snowshoe you buy.
Greg Mills, owner of Murdock's Bicycle & Sport in Oswego, thinks that snowshoeing is increasing in popularity because participants can do it anywhere, whether or not they have a groomed trail — a requirement for cross-country skiing.
Mills said that the various snowshoe styles are based on several factors, including the weight of the user, the activity intended, and personal preference. Don't grab the first pair you see.
"When you look at them, the range is pretty substantial," Mills said. "It's 25 to 30 inch shoes for men, for example, and a range of 80 pounds."
Because the weight ranges on each shoe may overlap quite a bit, he advises beginners to go for the shorter shoes in their weight range, as they're easier for maneuvering.
Types of snowshoes include articulating shoes, which offer a pad where the boot locks in place.
"You could have a brace that's not lifting up as much in the heel for walking light trails," Mills said.
There's also snowshoes better for climbing, hiking trails and running.
"We've done a few moonlight snowshoe walks at Fallbrook Recreation Center at Oswego," Mills said. "But if you have woods and want to walk with them, snap on snowshoes and away you go."
For hilly terrain, poles can help you stay upright, but Mills doesn't think they're a necessity.
Mills also said that you may want to invest in gaiters if you don't wear ski pants.
"If you'll be out for a while, you kick up snow," he said.
All that splatter will soak through the lower legs of regular pants. Gaiters will keep you drier without the bulk and weight of ski pants.