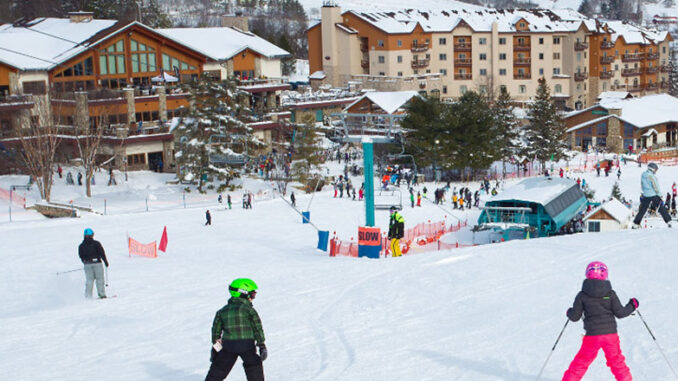 By Deborah Jeanne Sergeant
While the Finger Lakes and Western New York regions' ski venues are more spread out, these areas provide some unique properties worth visiting by locals and tourists alike.
Resorts
• Bristol Mountain is a must-do for any diehard skier. Its trippy 1,200-foot vertical rise is the highest between the Adirondacks and the Rockies. Plus, Bristol's 34 trails and snowmaking system offer plenty of powder. Bristol also provides several dining options, including Rocket Lodge, Satellite Lounge, Morning Star Café, Sunset Lodge and Summit Grille. Though Bristol offers no ski lodge in the traditional sense, its North Star Village rents two-bedroom townhouses at the base of the mountain for convenient access. Numerous other lodging is nearby as well.
Directions: 5662 Route 64, Canandaigua. 585-374-6000. www.bristolmountain.com
• Peek 'n Peak Resort & Spa provides 27 trails, a tubing hill and ski and snowboard lessons. Non-skiing activities include the indoor pool, basketball court, fitness center and indoor playground. The resort features a variety of lodgings, Serenity day spa and six dining options: The Market at the Inn, The Sports Bar, Sugar Shack, Starbucks, The Retreat, Bistro 210, and the Main Ski Lodge. Check the website for a variety of getaway packages.
Directions: 1405 Olde Road, Clymer. 716-355-4141. www.pknpk.com
• HoliMont Ski Resort. Billed as America's largest private ski area, HoliMont offers eight lifts servicing over 50 slopes and trails, as well as the Terrain Parks and Halfpipe. Fatbiking is also available, plus skiing and snowboarding lessons and equipment rentals. HoliMont does not operate a traditional ski lodge but does provide long-term rental units adjacent to the slopes.
Directions: 6921 Route 242, Ellicottville. 716-699-2320. https://holimont.com
• Holliday Valley is home to numerous ski trails and offers tubing, cross-country skiing, snowshoeing, snowboarding, mountain coaster and "secret" fort for children. Skiing lessons and daycare are available. Multiple lodging and rental opportunities offer something for every guest. Check the website for getaway packages. Dining options include John Harvard's Brew House, McCarty Café, Marketplace in the Yodeler Lodge, Mountainside Grill at the Holiday Valley Lodge and Tannenbaum's Seven Headwalls Cafe.
Directions: 6557 Holiday Valley Road, Ellicottville. 716-699-2345. www.holidayvalley.com
Ski Centers
• Powder Mills Park allows beginner skiers to learn experience skiing in the park. The gentle slope is accessed by a single rope tow. There's also a small lodge, rental equipment and instructors available. Powder Mills is perfect for those possibly interested in skiing who do not want to invest a lot up-front and also those who live locally and want to sneak in a quick ski session.
Directions: 154 Park Road, Pittsford. 585-753-7275 or 607-545-6511. www.facebook.com/PowderMillsPark/?fref=ts
• Brantling Ski Slopes is a family-owned ski center with nine trails served by lifts and tows. Brantling also offers lessons, a small café and, for outside food, a picnic area on the second floor.
Directions: 4015 Fish Farm Road, Sodus. 315-331-2365. www.brantling.com
• Hunt Hollow Ski Club boasts 80 acres of trails. Though a private club, it opens to the public on weekends. Hunt Hollow provides childcare, equipment rental, dining, fire pit and grills, and mountainside residences.
Directions: 7532 County Road 36, Naples. 585-374-5428. www.hunthollow.com
• Buffalo Ski Center offers 43 trails from beginners to expert. Snow making equipment keeps the action going all season. Buffalo Ski Center provides childcare, lessons and dining on-site, but not equipment rentals.
Directions: 7707 Lower East Hill Road, Colden. 716-941-5654. www.buffaloskicenter.com
• Kissing Bridge is meant for beginner through intermediate skiers. Its 26 trails are served by two base lodges and two complete rental facilities. Lessons are available. Kissing Bridge's snow making equipment keeps the hills covered all season. Dining options include Central Café, The Harvest Room, Lake Effect Saloon and Willies Smokehouse.
Directions: 10296 State Road, Glenwood. 716-592-4963. www.kbski.com