By Melissa Stefanec
When it comes to food, classics are classics for good reasons. A bowl of creamy whipped potatoes smothered in warm gravy is just amazing whether the weather is cold or not. A mimosa is the perfect drink to toast when celebrating the New Year. However, sometimes, it's nice to venture off the proverbial beaten path. Sometimes, different is good. For the crowds who might appreciate a fresh spin on a classic, try these recipes. You might just come to appreciate an up-and-coming classic.
Swap out: mimosas
Swap in: blood orange prosecco
How to do it: Blood oranges are also known as moro blood oranges. Their flesh is a deep red color, which resembles blood. The fruit tastes like an orange with hints of raspberries. Thus, they work very well with sparkling beverages. Blood orange juice can be found at some grocery stores. It can also be made by juicing blood oranges. To make the cocktail, simply mix equal parts dry or semi-dry prosecco with blood orange juice. If a slightly sweeter beverage is preferred, rub the rim of the glass with a slice of orange and roll the rim in fine sugar prior to filling. A sugar cube can also be added to the mixed beverage.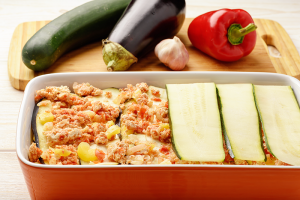 Swap out: pumpkin pie
Swap in: fresh squash pie
How to do it: A classic pumpkin pie can be made with just about any squash, whether it be acorn, hubbard, carnival, delicata or butternut. A packed puree just needs to be prepared using the desired squash. To prepare the pack, cut the chosen squash in half lengthwise, spray with coconut oil and roast facedown on a cookie sheet or glass pan. Add a small amount of water to the tray or pan and replace as needed while cooking. The goal is to not saturate the squash. Roast at 350 F for at least 45 minutes or until soft. Remove from the oven and allow to cool. Scoop out cooked squash and puree in a food processor. Then, set pureed squash in a sieve positioned over a bowl. Allow to sit overnight in the refrigerator, allowing as much liquid to drain out as possible. Once squash is dewatered and packed, use it in an any pumpkin pie recipe.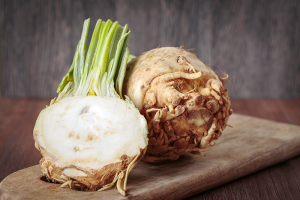 Swap out: green bean casserole
Swap in: roasted dilly beans
How to do it: Preheat the oven to 400 F Line a cookie sheet with parchment paper and spray lightly with olive oil. Set aside. Take 1 pound of fresh green beans (French or classic cut) and rinse and dry them. Take two sprigs of fresh dill and finely chop. In a small bowl, put 3 tbsp of olive oil, 2 tsp of chopped garlic, and the dill and mix to combine. Brush over the top of the beans. Sprinkle beans with desired amount of freshly ground black pepper and coarse salt. Squeeze the juice of 1/4 to 1/2 of lemon (to taste) over the beans. Bake for about 20 minutes, or until the beans begin to shrivel. Remove from oven and, If desired, sprinkle with fresh parmesan cheese.
Swap out: mashed potatoes
Swap in: pureed celery root
How to do it: Celery root is a humble-looking tuber with a lot of flavor. To prepare celery root, first cut the greenery/plant away from the top of the root. Then, cut away the brown out layer with a sharp knife or heavy-duty peeler. Take the remaining core, which should be off-white, and cut it into small chunks (about 1 inch in diameter). Boil for about 30 minutes, or until soft. Drain the chunks and place them in a food processor or use a potato masher to soften. Once mashed or pureed, prepare the celery root in the same way one would prepare mashed potatoes. Add the desired amount of salt, pepper, butter and milk. The celery root mixture may also be incorporated into mashed potatoes at a ratio of 1:1. Puree also works well as a bed for seafood or chicken.
Swap out: classic lasagna
Swap in: zucchini and eggplant lasagna
How to do it: Preheat the oven to 350 F. Take two zucchini, summer squash, or eggplant (or use a mix). Cut the top and bottom of the vegetable off. Cut lengthwise into thin slices, no more than 1/4-inch thick. Set on paper towels and sprinkle lightly with coarse-ground salt. Allow to sit in open air for at least 30 minutes. Prepare lasagna to preference, using sauce, meat, ricotta (with chopped spinach), and mozzarella. Instead of layering these items with noodles, use the thinly sliced vegetables to separate the layers. Cover tightly with foil. Bake for 45 minutes, then remove foil and bake at 425 F until the top lightly browns.