By Deborah Jeanne Sergeant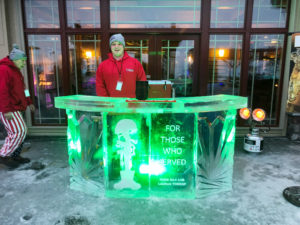 If winter has you stressed, you can chill out at the season's coolest party: the Fire & Ice Celebration at 1000 Islands Harbor Hotel. The event features a variety of ice sculptures created by a local artisan, ice bars and food tastings from local restaurants, wineries and breweries. More than 2,000 attended last year's event.
Created by Stan Kolonko, owner of The Ice Farm in East Syracuse, the main ice bars are about 10 feet long and weigh about 4,500 pounds each. He also creates smaller bars for the outdoor vendors and ice sculptures and a vendor logo wall. All told, he brings to the festival about 80 to 120 blocks of ice that each weighs 300 pounds. Kolonko and his two employees work on the displays for about two weeks before the event. None of his sculptures or features are made with molds but are carved instead.
The ice luges are a popular feature of the ice bars. On top of the bars, a sculpture with embedded plastic tubing forms the "luges" and allow bartenders to pour vodka through the ice to dispense into patrons glasses. Beverages at the ice bars are served on a "cash bar" basis.
Other sculptures in the past have included life-sized snowmobiles and interactive pieces, like a functional cornhole game.
Every night features a DJ to keep the festival lively. Participants can warm up by the outside fire pits or inside the Harbor Hotel's ballroom, where the samples are offered, along with light hors d'oeuvres provided by the hotel. Fireworks wrap up the festivities.
Proceeds from the event are donated to benefit North County Troopers Assisting Troops, a group of troopers working to help disabled veterans.
Is it Really Ice? Questions You May Have About the Ice Bar
The Ice Farm is owned and operated by award-winning ice sculptor and New York state native, Stan Kolonko. He said that after events such as the Fire & Ice Celebration end, "Mother Nature" takes care of his ice sculptures. Beyond the question of what happens to his sculptures, he's also frequently asked:
• Is it really ice? ("Yes, it is.")
• Does it melt? ("Yes, because it's ice.")
• Do you use batteries or put something in it to keep it from melting? ("No. It is only ice.")
• How long will it last? ("I don't know. It all depends upon whether it's outside or room temperature. Every factor matters when it's out. Is it in the sun? Has it warmed up? Is the wind blowing a lot? If it's below freezing it lasts.")
• Where do you get the ice? ("We make them ourselves on the farm.")
• Why is it so clear? ("We use reverse osmosis to filter the water to make clear ice. You need water in motion to make clear ice. When ice cubes are in your freezer, they have impurities and air in the water. That makes them cloudy and white.")
If you plan to go
Minimum age: 21
Where: 1000 Islands Harbor Hotel, 200 Riverside Drive, Clayton, 315-686-1100
When: 5 to 9 p.m. Feb. 6-8
Cost: TBD, includes sampling in the ballroom. Cash bar on the patio.
If you can't make it to Clayton, Harbor Hotel's "sister properties" offer similar Fire and Ice events featuring sculptures from The Ice Farm at Watkins Glen Harbor Hotel in Watkins Glen (www.watkinsglenharborhotel.com Jan. 30 to Feb. 1) and Chautauqua Harbor Hotel in Celoron (www.thechautauquaharborhotel.com Feb. 13-15).